The Versatility of Video
"Online video is a 600% more effective marketing tool than print and direct mail combined" – Diode Digital
Choosing to create video is an investment, one that comes with tremendous value and versatility. Below, we break down the reasons why video is such a diverse medium and the impact it can have on your business.
Video is Malleable
One common misconception is that marketing videos are often single-use and disposable. While this can be true in some cases, but it doesn't have to be! A video can be repurposed, reformatted and tailored for use in a variety of video platforms. Our client Sunday Scaries is one example of a company who wanted to reach as many people as possible. In order to do this successfully they had to create content to meet users where they are. This includes creating custom videos for SnapChat, Instagram, Facebook, and more. Now, many may think that must be an expensive bill at the end of the day, but in terms of content it's still one single project just several deliverables. Below is an example of our standard full-version video, as well as, the vertical format optimized for SnapChat.
Original Horizontal Format (40 Seconds)
Vertical Format Optimized for SnapChat (10 Seconds)
Expand Reach and Influence audiences
When you create multiple versions of the same content you have the ability to span across greater audience groups. This is a tremendous benefit because you aren't competing through one single platform to get noticed, you're creating content that is tailored to each platform. One of the worst things you can do is create one video and post it across multiple platforms, the reason being it's not designed that way. Each platform caters to a different audience, with different attention spans. For this reason, it's important to strategize before your project and discuss the parameters for each different platform.
Things like aspect ratio, resolution, on-screen text, captions, and duration should all be disussed with your video production team.
A great example comes from our recent client, Ikiko. We initially created a brand video for them introducing the launch of their job-seeking and posting service. We then took that video project and made snippets (what we call 'cutdowns') from the original to be used for one target audience (job seekers) as well as a second target audience (job posters). This project was an easy way to adapt the original piece of content into two new videos. We didn't have to schedule more days of filming, we simply utilized previously shot footage and restructured the story to fit a specific audience. As a result, Ikiko was able to expand their creativity, their reach, and share even more purposeful content.
Original Full-Length Video Optimized for Web (2 Minutes 42 Seconds)
Short-Format Video Social Media Platfroms (30 Seconds)
"77% of marketers who've implemented a video marketing strategy say that it's had a direct impact on their business." – E Marketer Digital
Return On Investment (ROI)
The ultimate goal of marketing is to generate more attention, more engagement, customer awareness and loyalty, and ultimately, more sales! Without sales, there is no money, without money there is no business. Every company wants to ensure a return on their investment (ROI). Which is why tracking and analytics are critical in assessing your video's effectiveness.
Great video content will increase your brand awareness and engage audiences. It will also improve your website's SEO. "The increased click-through rate with video is as high as 96% and is shared more than text and links combined" (Forbes). In terms of investment, video is top performer and it is easy to understand why. Naturally, our brains are programmed to retain visual content better than text, "an average viewer remembers 95% of a message when it is watched, whereas only 10% when it is read" (Forbes). If you're not yet using video to share your brand's message you could be missing out on great potential to reach your customers.
Consequently, it is important to thoughtfully plan your project. A well-defined video project has a clearly stated overall objective, as well as a proper timeline for the final deliverables. Also consider an appropriate budget that covers the scope of work. We are always happy to discuss the video production process and help our clients gain a deeper understanding of what it takes to make great video.
Video is the best way to capture people's attention, raise awareness, and inform your audience.
If your company is looking to utilize video into their next marketing campaign reach out to our team for a free creative consultation. Get people excited about your brand with quality videos.
Contact us today for a free consultation!
A critical element of great video production is PROCESS. During our initial conversations and pre-production meetings, we consult with our clients in order to develop an effective plan. We discuss the overall intention of the project, the intended audience, and the ultimate results the company is looking to achieve.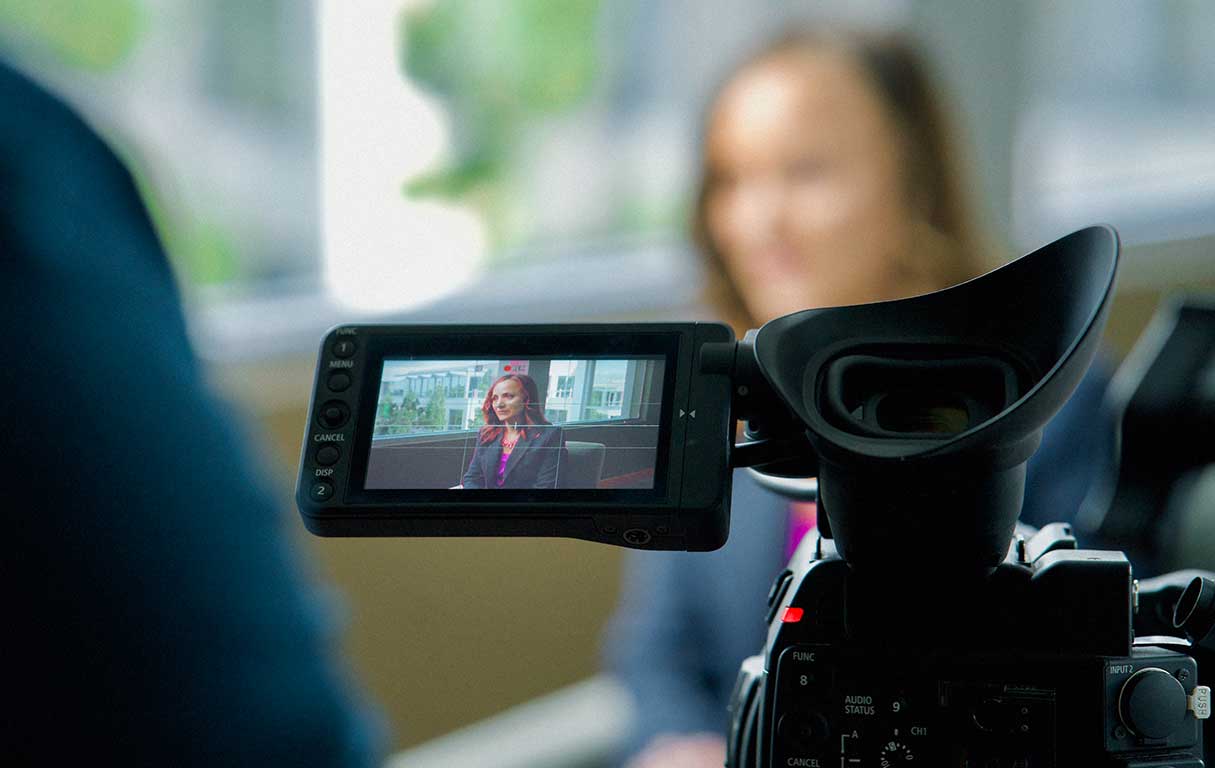 ---
---